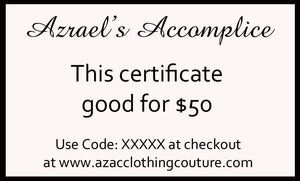 $

40.00
What a great deal! For $40 you will get a $50 dollar gift certificate good for total purchase on our site. Great gift for a friend, loved one, or yourself!
Please note that the code shown on the photo will be replaced with a unique code when you place your order. Gift certificates will be emailed to you so provide a valid email address when checking out. Certificates can be printed out and given to a friend or you may just use the coupon code directly.
Gift certificate coupon codes are good for one use on our site.